West Coast Waves by The Smooth Operators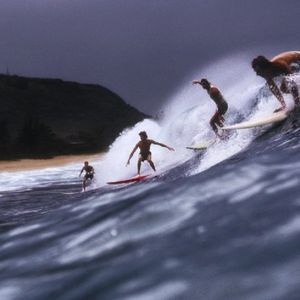 Picture: Leroy Grannis (1973)
Two and a half years after their successful debut album
West End Coast
, a new record by Young Gun Silver Fox,
AM Wave
s, has seen the light of day. Andy Platts (who recently released the album
Golden Days
with his own band Mamas Gun) and Shawn Lee have not changed much about their formula that goes back to the mellow West Coast pop of the 70s. The references to these influences are, as with their first album, numerous. When they listened to it,
The Smooth Operators
regularly dived into their record collection to search for those sources of inspiration. With every track they chose a classic album, on which the song would fit perfectly:
Midnight In Richmond
Album: America - Home Coming (1972)
Lenny
Album: Player - Player (1977)
Take It Or Leave It
Album: Doobie Brothers - Minute By Minute (1978)
Underdog
Album: Hall & Oates - Voices (1980)
Mojo Rising
Album: Ace - Five-A-Side (1974)
Just A Man
Album: Ambrosia - Life Beyond L.A. (1980)
Love Guarantee
Album: Pages - Pages (1978)
Caroline
Album: Bobby Caldwell - Cat In The Hat (1980)
Kingston Boogie
Album: Michael Jackson - Off The Wall (1979)
Lolita
Album: Peter Allen - Bi-Coastal (1980)
10 essential albums every West Coast Music lover should own, recommended by The Smooth Operators. When you love these albums, you definitely love the sound of Young Gun Silver Fox too.
Tracklist:
Pages
- If I Saw You Again (1978)
America
- Ventura Highway (1972)
Doobie Brothers
- Minute By Minute (1978)
Ambrosia
- Dancin' By Myself (1980)
Michael Jackson
- Rock With You (1982)
Bobby Caldwell - Open Your Eyes (1980)
Peter Allen
- Bi-Coastal (1980)
Chicago
- No Tell Lover (1978)
Player
- Baby Come Back (1977)
Steely Dan
- Peg (1977)
Young Gun Silver Fox
- Love Guarantee (2018)
Robbie Dupree
- Steal Away (1980)
Eagles
- I Can't Tell You Why (1979)
Boz Scaggs
- Lowdown (1976)
Larsen-Feiten Band
- Who'll Be The Fool Tonight (1980)
Ace
- How Long (1974)
Hall & Oates
- Kiss On My List (1980)