Smooth Sailing: Sunny Soul & Radio Pop
Picture Joan Smalls: Santiago Mauricio Sierra (The Edit February 2015)
Enjoy this new extended part of
Smooth Sailing
: Sunny Soul & Radio Pop! I selected some original radio fragments from the 1970s. Hopefully they give you the feeling of laying on the beach with your portable radio next to you in the sand. After three hours of sun bathing it is time to go home… The beautiful track by M. Wylde is out on Cultures of Soul on August 5:
"This music was recorded a long time ago – in a different era, a time when George W. Bush led America, when mass shootings such as Virginia Tech were shocking and rare, when Obama was just a hopeful glimmer on the horizon and when, for me, I was lost. This album was pure escapism. Not the cheery escapism of Rupert Holmes' "Escape," maybe, but escapism none the less. It's an album about a single man in space. Alone, floating above the blue pin prick of earth. No hope for connection, but also, nothing to fear."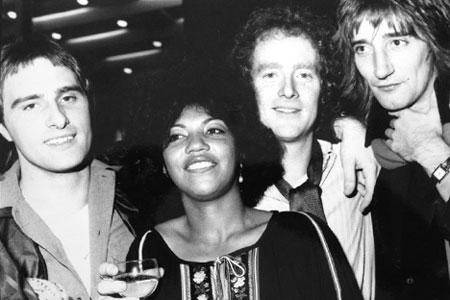 Steve, Linda, Jim & Rod
Since its release 'Make Me Smile' by Steve Harley & Cockney Rebel has been covered more than 120 times, most notably by Robbie Williams, Duran Duran, Erasure, Rainy Milo and The Wedding Present. It reached the number one spot on the UK chart in the early spring of 1975. The song sounds a little bit similar to 'Year of the cat' by Al Stewart. This is no coincidence, because both songs have the same producer (Alan Parsons) and some of the same musicians as well. The guitar part by Jim Cregan is wonderful, just as the background vocals by Yvonne Keeley (Steve's girlfriend at the time) and soul singers Linda Lewis and Tina Charles. In interviews Steve tries to convince us that the song is about his band leaving him, but that seems strange with lines like 'Blue eyes blue eyes, how come you tell so many lies?" It's definitely one of the best bitter love songs ever. No need to be ashamed of that, Steve. Guitar player Jim Cregan became one of the members of Rod Stewart's band and played on his classic 'Do ya think I'm sexy'. Linda Lewis, then wife of Jim Cregan, did also the background vocals on that one, but she told me on Facebook that she is still waiting to get paid by Rod…
Last Friday I was on Straightline. You can find the mix that I did for them on
Mixcloud
too.
Tracklist:
Angela Bofill
– Tropical Love (1981)
Labi Siffre
– Doctor Doctor (1975)
Steve Harley & Cockney Rebel
– Make Me Smile (Come Up And See Me) (1975)
Steely Dan
– Time Out Of Mind (1980)
Roxy Music
– Angel Eyes [Eddy's Edit] (1979)
Isley Jasper Isley
– Caravan Of Love (1985)
The Independents
– I Love You, Yes I Do (1972)
Fantasy
– You're Too Late (1981)
Family Of Eve
– Having It So Bad For You [Disco Tom Edit] (1979)
The Fabulous Waller Family
– The Feelings That I Have (1980)
Leah Kunkel
– Temptation (1980)
Prime Cut
– I'm So Glad (1973)
Cream And Sugar
– Between Us (1980)
On June
– Stuck On You (2016)
Jackson 5
– Breezy (1975)
Buddy Miles
– I'm Just A Kiss Away (1974)
Thelma Jones
‎– How Long (1978)
Stanley Turrentine
– Midnight And You (1974)
Ricardo Marrerro And The Group
– Feel Like Making Love (1977)
The Hollies
– Falling Calling (1975)
Syreeta
– Tiki Tiki Donga (1977)
Marmalade
‎– Falling Apart At The Seams (1976)
Stealers Wheel
‎– Stuck In The Middle With You (1972)
Dane Donohue
– Can't Be Seen (1978)
Jaye P. Morgan
– I Fall In Love Everyday (1976)
Nina Simone
– Rich Girl (1978)
Gilbert O'Sullivan
‎– Alone Again (Naturally) (1972)
Bread
– It Don't Matter To Me (1969)
Seals & Croft
s – Diamond Girl (1973)
George Duke
– Brazilian Sugar (1979)
Lynsey De Paul
– Sugar Me (1972)
Brian Auger & Julie Tippetts
‎– Git Up (1976)
Tony Hatch & Satin Brass
– Sounds Of The Seventies (1970)
Lil Albert
– My Girl Friday (1976)
Bee Gees
– Fanny (Be Tender With My Love) (1975)
Camfonics
– Something I'm Working On (2016)
Jodie Abacus
– I'll Be Your Friend (2016)
Dennis Waterman
– I Could Be So Good For You (1979)
Earth, Wind & Fire
– Serpentine Fire (1976)
Candi Staton
– Suspicious Minds (1982)
Pieces Of A Dream
– Fo-Fi-Fo (1983)
Incognito
– Echoes Of Utopia (2016)
M. Wylde
– Bring Me Down (2016)
The Jeremy Spencer Band
– Cool Breeze (1979)
Inez Foxx
– Mousa Muse (1973)